Garden is designed around the villa. In the garden there are many trees, full of green, while the flowers are colorful, bright yellow daisies highlight a corner of the garden and warm up the surrounding space, and Lavender is purple.
The surrounding are climbing roses, the colors are also very rich, there are velvet roses, red roses, white roses, orange roses vying for fragrance but the roses are not grown in clusters but they are planted around the villa
At the Cao Gia Chi Bao villa, there is an old cherry apricot blossom tree but it also races to show off its new pink coat. It can be said that the cherry blossoms in the foggy land are very special, the trunk is like the peach tree, plum tree in the North, and the flower has five apricot petals so it is called its own cherry apricot Da Lat.
In addition, there are many kinds of flowers such as: mi tea, forest orchid, yellow phoenix, lip balm, … From the main entrance, there is a Japanese Koi aquarium and along the corridor to the grass hill is a murmuring waterfall.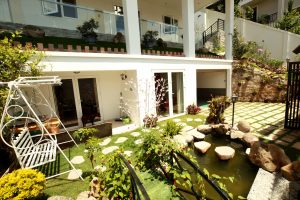 A natural world in the heart of a villa with trees, paint, with the sound of running water, birds singing. From above, the garden is almost all green. The sky is blue, the clouds are blue, there is a garden full of green, and the sky is clear and clear.
Details
Adults:

12

View:

Valley & Garden view

Size:

60m²

Bed Type:

1 King Size bed, 1 Queen bed, 1 Sofa bed, 5-6 Mattress
Availability