Are you looking for a accommodation or a villa that can cook by yourself?
Arriving late to our villa? When the shops are closed? You should not rush out and do the shopping!
As Cao Gia Chi Bao Villa's Kitchen is fully equipped with modern equipment so that you can cook for your loved ones. In case you do not have ready to cook, then we will provide you with the clean food available at Villa. There is a freezer full of the highest quality foods for you to choose from a variety of seafood, fish, shrimp, octopus, vegetables, pizza, noodles, chips and much, much more. So we can make it easier for you to have a meal and make your stay even more wonderful.
Phòng Bếp ở Villa Cao Gia Chi Bảo
Kitchen equipment:
♦ Microwave
♦ Frying Machine
♦ Oven
♦ Rice Cooker
♦ Stove
♦ Electric Kettle
♦ Saucepans, Frying pans, Bowl, Dishes, Plates, Chopticks, Spoons, Sharp Knife set.
♦
Washing Liquid
♦ Refrigerator
♦ Freeze-refrigerator
♦ Cool-refrigerator
♦ Water Purifer
♦ Dining Table/ Chair
♦ Wooden Floor
♦
The kitchen has 2 large doors, a balcony door  with beautiful valley view, one door leading to the garden.
Especical, BBQ (gas grill & charcoal) is for you to cook any dish.
BBQ at Villa Cao Gia Chi Bao
Large dining area has 2 doors, a balcony door and a garden door, so BBQ is very convenient . Because the dining area is arranged near the Kitchen, eating or cleaning becomes convenient & space is enough for about 15 – 18 adults (2 tables can be arranged in this area).
We have a dishwasher to save your time or cleaning in the kitchen. However, if you want to ask for service, please inform us first.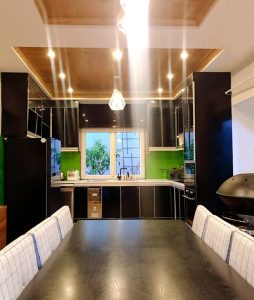 Khu vực ăn uống ở Villa Cao Gia Chi Bảo
Meals a great part of your vacation. And we can simply make it perfect.